I read with interest an article on Fox News today, Florida lawmakers move to end permanent alimony, as governor weighs legislation:
Florida could become one of the first states in the country to overhaul the alimony system by ending life-long payments and allowing judges to change existing deals — if Gov. Rick Scott signs the controversial legislation.

The Republican-led effort, which critics call "anti-woman," passed the Legislature last week and now sits on Scott's desk. If signed, Florida would follow Massachusetts in reining in alimony laws, which often require a spouse to pay until death. Massachusetts in 2011 became the only state to enact such legislation — but other states are now considering similar bills.

Florida Republican Rep. Ritch Workman said he sponsored the legislation in his state because he saw the need for better guidelines in awarding alimony payments. He has support from female Republicans in the chamber and at least one female Democrat, Rep. Katie Edwards from South Florida. Among the provisions, the legislation would generally bar payments from lasting more than half the duration of a marriage and impose benefit caps based on salary. The bill also would allow courts to adjust some existing alimony deals and require judges to give divorced parents, under most circumstances, equal child custody.

However, the legislation has been met with criticism from women, Democratic lawmakers and family court lawyers, who are expected to appeal to the governor to reject the bill. State Rep. Cynthia Stafford, a Miami Democrat, called the bill "one-sided, anti-woman and mean-spirited." Carin Porras, a Fort Lauderdale attorney and chairwoman of the Family Law Section of the Florida Bar, told The Miami Herald the legislation is "not in the best interest of children and families."
I'm going to go out on a limb and guess that the democratic lawmakers who oppose the bill would self-identify as feminists. Yet isn't feminism supposed to be about egalitarianism? If we women are just as strong and capable as men are, why should we need lifetime alimony, and why would eliminating it be "anti-woman"? Why would granting fathers equal custody be "anti-woman"? Isn't it for the best that children have as much access as possible to their fathers? And how exactly is the bill "one-sided"? It applies equally to everyone – no lifetime alimony regardless of who is paying whom.
You see, in these kinds of situations, feminists like to change horses mid-race. They go from spouting propaganda about how what women really need is more education, a career, and independence…to spouting that what a woman really needs is to be taken care of by a man for the rest of her life. Saying that women are strong enough to take care of themselves but still need a man to support them for life isn't even like switching horses mid-race; it's more like trying to run the race while straddling two horses.
But if women are so weak and fragile that they need to be taken care of by a man for the rest of their lives, then my goodness, should they really be in the workforce? If they are not capable of taking care of themselves, then they ought to be at home. And guess what! That is exactly where they could be if they were married and their husbands were willing. So that's the solution to the problem right there, isn't it?
It's nice to think that such bills would reduce the divorce rate. After all, women file for 70% of all divorces, so maybe reducing their financial reward for divorcing would cause them to reconsider filing in the first place. But I don't think that will work because our welfare entitlements in the U.S. are just too juicy. So now instead of drawing alimony from one man, women will be drawing it from all men in the form of government assistance.
Although I support eliminating lifetime alimony, doing so won't solve our underlying problem because it just shifts the burden from one man to all men.  In every educational bracket, men have higher lifetime earnings than women have: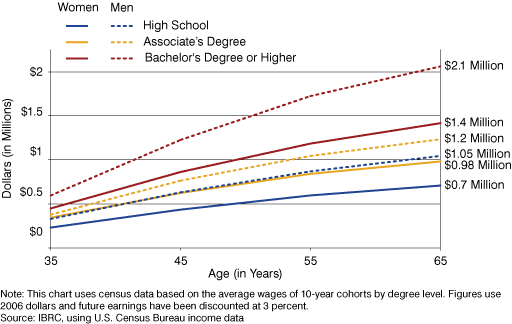 This means that men are also paying the bulk of federal and state income taxes.  But entitlement spending is skewed as well; 61% of women but only 49% of men have ever received payments from at least one of the six big entitlement programs.  I'm not sure what the difference is in the amount received, but I would guess that it is even more heavily in favor of women.
Here is the truth: women who have children are by and large not able to support themselves without some kind of financial assistance from men. They can get that assistance from a husband, from an ex-husband or baby daddy, or the government, but they will get it. The most logical and the safest place for a woman to get the assistance she needs for raising children is in a marriage, where at least the man gets something in return (theoretically) for his provisioning.
Both alimony and welfare should be ended.  Men who do not wish to marry or have children should not do so, but those men who wish to be fathers should become fathers within the context of marriage and support their own wives and children.  Wives should accept that support while in return fulfilling their marital duties of providing sexual access and producing and rearing children.  This is the only model of social organization that provides for all of the needs and some of the wants of men, women, and children and produces a stable society.
Further reading on the topics of divorce, welfare, and familial/societal structure: