1. And it's a good thing they do because other women reject sexually promiscuous peers.  Head over to Mangan's for the rest of the story.
2. In Church Shopping and the Race to the Bottom, Donal Graeme tells a story that exemplifies "church shopping" and explains that
people will shop around for a church that they feel comfortable at. In this day and age, one where feminism is largely running rampant even among "conservatives," biblical commands tend to make most people uncomfortable. Most Christians are no longer "in the world", but instead are "of the world." [...] the ability of "Christians" to church shop creates a natural pressure amongst churches to race to the bottom, to the lowest common denominator, and adopt beliefs which don't conflict with the worldly views of members or potential members. This pressure is always present, because membership means prestige, power and money. If one church doesn't adapt, then another will, and will benefit from it, while the other suffers. In order to compete, in order to survive long term, a church must adapt. Of course, adapt in this case means to try and ditch as many of those pesky scriptural commands as possible.  Continue reading…
3. At The Orthosphere, guest poster Finn McCool asks and answers the question Is It Possible to Discriminate and Still Be a Christian?  He relates the Biblical passages about the confusion of our common language at the Tower of Babel and explains:
Do you remember P. J. O'Rourke's famous quip—"Giving money and power to government is like giving whiskey and car keys to teenage boys"? Well, that's what a sinful and purposefully united human race is; they are drunk and dangerous and for their own safety they must have their "keys" (i.e. their unity) taken away from them. That's why a kind-hearted cop tells the drunken frat guys to shut up and go home. It's for their own good.

And it is good, it is necessary, it is ordained by Yahweh himself that sinful mankind be separated by language, by race, by custom, by culture—and by tangible borders. Yes, all humans everywhere are naturally united by our common humanity. But this is a fallen humanity, and though our dispersal over the face of the whole earth is an example of God's judgment, it is also an instance of his common grace. Continue reading…
4. Cane Caldo offers A Refresher on the Basics: There Are No Ugly Truths, but Mrs. Wood, who objected to my usage of the word "butt", most definitely ought not to read it, as the other title he considered for the post was Women Want Dick.   But he makes a really good point to me in the comments:
Many men really just will not accept this magnificent fact about women. Because of this, they teach their women (who WILL follow) that their own dicks are nothing to be excited about.  Women are souls too, and so will bring in their own preconceptions, but she has no incentive to correct her misconceptions if he has the same ones.
Note: The language in this post is salty, but if you've been around, you know that CC is a serious Christian, so if he is using such language, he has a reason to do so.
5. I got an email from Mr Private Man, letting me know about a service he is now offering: One On One Advice Is Now Available (Phone-Based).  He has been running events called Red Pill Dating to teach single men and women some basics about attraction and dating; in his email, he writes:
I am passionate about giving Red Pill dating and attraction advice. That's why I've been blogging for well over two years and spun off Red Pill Dating for live events. It's very rewarding for me.

I have developed a system so I can deliver the advice consistently and efficiently. I've done it before and I truly enjoy it.
PM's advice is for singles, and be advised that he is not a Christian, but he can be quite Christian-friendly.
6. However, if it's marital attraction advice you are looking for, Married Man Sex Life is the place to go.  Athol's latest post is about the hazards of the wife Framing the Official Relationship History:
if she controls the official meeting minutes of the relationship, she gets to be the one that remembers the relationship correctly. Which means she controls the entire frame of the relationship history. Which means if she's fallen out of love with you, your entire relationship will be rewritten to frame you as some loser she was putting up with and her as the long suffering spouse. Thus explaining, when driven to the breaking point, the need to seek solace in the arms of another.  This mind control tactic is called Gaslighting.
7. Danny's form of Black Knighting is to cash in on foolish white knights:
I've YET to meet a woman who wasn't willing to share in the spoils of white knights. They love nothing more than bragging about their ability to procure any and everything for nothing from a hapless beta. So, I don't really see the point in shaming them, especially when I get to cash in on them too.
8. Some good advice from Brigid at Home on the Range:
Everything is based on now. Do not pass GO, do not collect $200. What do you mean you haven't got a date, got a spouse, a house, a baby, and we need to talk to you about those 25 pounds.  Everything is on a time schedule and it's not necessarily ours. Meals are microwaved, we speed date, express wash, Kwik-e-Mart, and you know what? We find that in rushing towards what we're supposed to want, we missed the things that can truly change our lives.

Reset your clock. Just once, turn off your computer turn off your cell phone, turn off Twitter, and Facebook and clear your calender for a few hours. Pick up that old firearm that may have been your Dad's, or your Grandfathers and head out into the country.  If you don't hunt, then pick up a camera, a drawing pad and a pencil.  But take some tool that will open up the wilderness to you and go.
9. Lori from Always Learning discusses the spin that Michael Douglas' HPV-caused throat cancer is getting by the MSM and the medical establishment:
They refuse to speak truth but instead give people an out for bad behavior.   Instead of practicing abstinence until marriage, just take a shot so you can fool around as much as you want without consequences.  I don't see how a vaccine can prevent all the sexually transmitted diseases one can get from oral sex or intercourse.  They are lying to us!  They think a vaccine or a condom will prevent all disease.  Why are they so afraid to say the obvious…You won't get a sexually transmitted disease if both spouses have stayed pure until marriage.  Monogamy is safe.  It is God's protection for us.
10. Stingray from Verus Conditio invites women to tell their stories of choosing biblical submission.  These personal narratives are powerful because they serve as an antidote to the often-repeated lie that submissive women are doormats.  She writes:
So many women who have decided to tell their story feel a strong sense of freedom.  Why?  Because, at last, we are free to be feminine.  We are free to be women, not quasi men.  So I invite my commenters and readers to tell their story.  If you've decided to be submissive, what has it done for your life and for your marriage?  How has it affected your husband?
11. In Don't Lie to Your Daughters, Allamagoosa responds to this: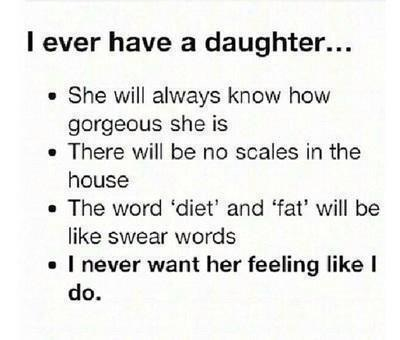 by wisely noting:
Lying to your children and sheltering them from the world is not love. It is selfish and cruel. You are not helping them in any way. The truth will out and they will hate you and never trust you again. You can't control what your child feels, you certainly can't do it forever.
12. Why do so many more women than men attend church?  Maybe it's because churches have Women's Ministries called "Refined Gems" and Men's Ministries called "Dirt Bags."  Laura Grace has the full story at Unmasking Feminism.
13. Martel at Alpha is Assumed writes:
Vox Day recently asked "why do women ruin everything, even for themselves?"  Because they're giving shit-tests, and there's nobody around to pass them; the men are either weak or nowhere to be found.  When women know they're testing, there's a chance that they can limit themselves (sometimes, sort of, almost, under the right conditions).  However, feminists don't admit that they need anything from men (besides their genitalia and/or sperm), so they'll never admit to giving tests.  Nevertheless, test they must, and the more vicious their tests, the more likely men will see no need to bother with them.  The Hamster, uncontrolled, untrained, and without masculine restraint morphs intopure evil.  The Hamster is now the Shrew.